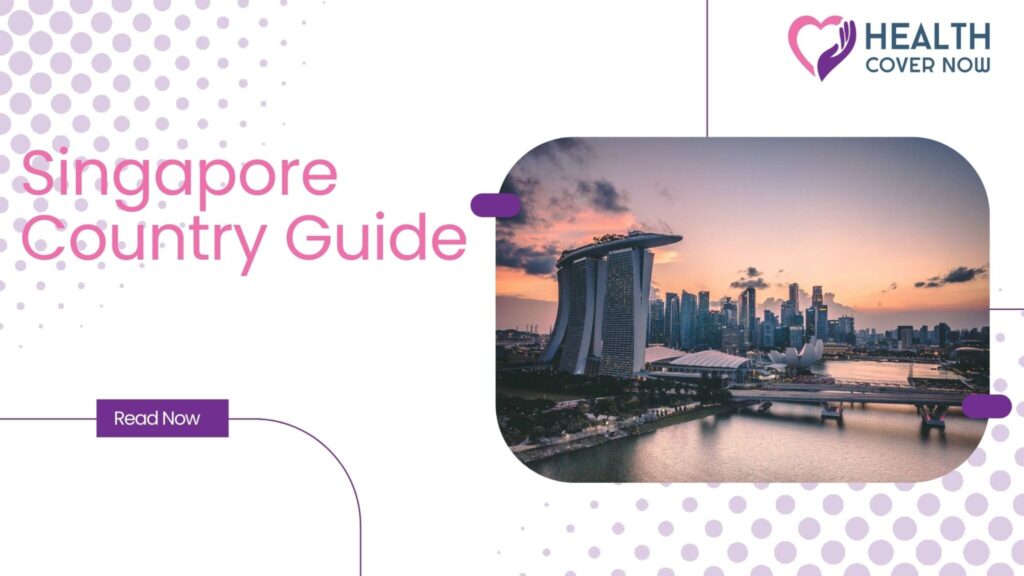 Introduction
Welcome to Singapore! This guide will help you find information on health insurance in Singapore, and why it is important to obtain an international private medical policy if you are living there as an expat.
Moving overseas can be an amazing life enriching experience but it's important to be prepared particularly if moving with your entire family. Singapore is a vibrant multicultural city and is a buzz with life. You will definitely enjoy your life in this amazing island city, known by many as the Lion-City.
Singapore facts
Here are some facts about Singapore that you should know before moving there:
Singapore is the smallest country in Southeast Asia. It's only about 270 square miles and has a population of 5.7 million people, which means it's densely populated.
It is culturally diverse with a mix of Chinese, Malay and Indian ethnic groups all living harmoniously together,
This tiny island nation has the highest per capita income in the world at $57,403 US per year and its citizens enjoy universal healthcare coverage through programs run by their Central Provident Fund, primarily funded by Medisave which is a mandatory medical savings scheme.
Singapore is known as one of the world's most expensive cities to live in and ranks as the top city for expats with a high-paying job. It attracts companies from all over the world and is the Asian Headquarters for many multi-nationals.
Singapore is a stable and growing economy and is considered a first world destination for healthcare with many insurers positioning it as a regional hub of medical excellence. Expats are attracted to the city for these reasons but also for the fact that all Singaporeans have a great command of English and are welcoming towards nationalities from all walks of life.
Singapore costs of living
Singapore is a safe, clean, and green city – with some of the highest quality of life rankings in the world.
However, it's also one of the most expensive cities in Southeast Asia. For instance:
Expats can expect to pay around $3,500 per month for a furnished apartment in the CBD (Central Business District). The closer you are to Orchard Road (Singapore's most exclusive shopping district), the more expensive your rent will be.
Education costs can be very high for expat families as they can't readily access the public school system.
Monthly expenses for food and groceries range from $200-$500 depending on how many meals you eat out each day.
How to buy private expat health insurance
The first step to buying private health insurance is to find a broker:-
You want a broker who will take the time to talk with you about your needs and preferences, and help you figure out which option is best for your situation.
Always check their experience to see how long they have been in the industry and what type of support they can offer you moving forward.
Visit their website and check them out on social media platforms like LinkedIn and Facebook.
Remember larger brokers aren't necessarily the best choice as they deal with hundreds of client issues daily and may not spare the time to support you in your time of need. Many larger brokers do not even have any hands on experience using these polices themselves.
Once you've chosen your broker ask them for quotes from several different providers so that you can compare plans side-by-side while also keeping track of any special features included with each policy, like wellness offers or digital claim facilities.
After you have reviewed your options and selected your insurance plan, ask for confirmation in writing that lists the details of all coverage included with the plan. This will be in the format of a full Table of Benefits and the Policy Wording. Also review the claims procedure with your broker, specifically how pre-authorization works for major claims and what to do in a medical emergency.
Costs of private expat health insurance
The cost of private international health insurance varies depending on an individual's age and medical history, as well as their region of residence. For example, a 30-year-old female who lives in Singapore would pay around $350 – $600 per month for medical cover including inpatient and outpatient cover.
Meanwhile, a couple in their late 20's looking to start a family and require comprehensive cover including inpatient, outpatient, and maternity cover may pay as high as $1200-$1500 per month.
Lastly a young family with kids below the age of 10 looking to purchase an inpatient only plan can expect to pay $600 a month for private medical insurance in Singapore.
Some providers offer discounts for the addition of a 4th family member and others may even try to incentivize customer with no claim's discounts.
Best expat health insurance in Singapore
There are over 20 different international private medical insurers to choose from when considering expat health insurance. Health Cover Now can assist you by tailoring a plan for your specific needs and budget. It's important to compare a number of plan options and then fine-tune your quotes until you are happy with the benefits and the insurance provider. Not all plans are the same and not all providers are the same that's why it's important to engage a broker to help you understand your options.
To view a typical table of benefits for an expat medical insurance plan for Singapore please take at look at the diagram.
What are the standard benefits of an international medical insurance policy?
When evaluating international health insurance providers, you should study policy benefits and premium costs, but you should also consider these important factors.:-
24/7 Global Emergency Support
Direct Billing Hospital Network
Fast claim refunds, and trackable claims process
Treatment guarantee and pre-approval for high-cost treatments
Wellness Initiatives and advisory services
Lifetime renewability and portability of cove
Conclusion
We hope this guide has helped you understand the ins and outs of health insurance in Singapore.
We encourage you to ask questions and seek out answers from by engaging a broker and doing your own research. Please visit our website to learn more about international private medical insurance. Health Cover Now can prepare free quotes from our panel of health insurers we work with and is committed to giving you the best advice so you can make an informed decision about your new policy.